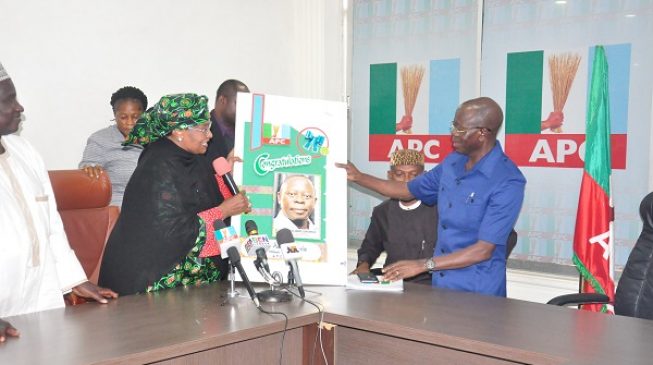 Adams Oshiomhole, national chairman of the All Progressives Congress (APC), says Aisha Alhassan was disqualified from contesting the Taraba governorship primary over anti-party activities.
The minister of women affairs was in the race to contest Taraba governorship in 2019.
Oshiomhole said the minister had not been completely loyal to the APC, and the party could not tolerate those who played anti-party activities within its ranks.
He said after reviewing utterances from the minister and following her obvious relationship with one of the Peoples Democratic Party (PDP) presidential aspirants, the APC national working committee had no option than to disqualify her.
Oshiomhole said: "She had issues that have to do with party loyalty. Our constitution is clear and it dictates that to contest elections or even hold office in the APC, you must be loyal to the party in every material concern.
"From all she had said in the past and even her comments and general attitude during the screening, the NWC reviewed everything taken together and we arrived at the conclusion that she does not possess the level of loyalty the APC requires for her to contest elections on our platform."
He said the minister knew she was being denied from using the APC platform to contest the Taraba governorship election in 2019.
Oshiomhole also shed light on the disqualification of Adebayo Shittu, minister of communication, from participating in the Oyo governorship primary.
The minister was not cleared because he did not participate in the compulsory one year National Youth Service Corps (NYSC) scheme.
Oshiomhole said: "He admitted that he did not do the mandatory NYSC as provided for under the law, and in is own judgment, his being a member of the Oyo House of Assembly and now as a minister of the Federal Republic were enough sacrifices.
"But for us as a party, we know that NYSC is a mandatory scheme. It is not something you may elect to do or abstain from doing.
"So, for us, not participating in the NYSC raises very serious moral issue as well as legal issue.
"If he did not do NYSC, that for us was enough to disqualify him and we had to find the courage to do so."