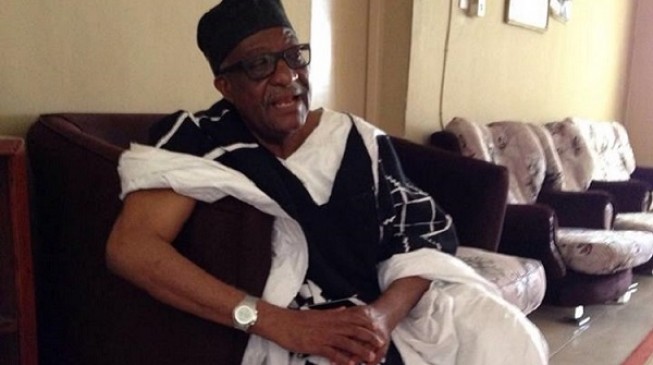 The board of trustees (BoT) of the Peoples Democratic Party (PDP) has asked its members not to campaign for any presidential aspirant.
Addressing reporters after a meeting in Abuja on Thursday, Walid Jibrin, chairman of the BoT, advised any member that moves with an aspirant to resign from the board.
He said members of the board ought not to forget their role as conscience of the party,
"If you are a member of BoT, you remain the conscience of the party and you should not be moving about with any aspirant," he said.
"If we are really the conscience of the party, we should not move about with aspirants. That was what happened during the last national convention when we elected the national chairman.
"Some of us went and pitched camps with aspirants, taking them all over the place. This time, we will not allow that to happen.
"Anyone of us who moves about with any aspirant should resign from the BoT. We are the ones that will settle the complaints. But if we are involved, then it will not be fair. So we have told our members not to campaign with the aspirants because we are also the delegates."
Senate President Bukola Saraki; former Senate President David Mark; ex-Vice-President Atiku Abubakar; Ahmed Makarfi, former chairman of the PDP; Aminu Tambuwal, governor of Sokoto state, are among those seeking the ticket of PDP for the 2019 election.
Jibrin added that the party is working on reducing the number of its presidential aspirants.
However, he made it clear that PDP would not force any of the aspirants to withdraw from the race.
"We are recommending that we have to manage the situation very well to ensure that it does not lead to crisis. The presidential aspirants are 13 in number so we are trying our best to ensure a reduction in the number," he said.
"But we are not going to force anybody to withdraw from the race, as consultations among party elders are still ongoing. We are going to bring out a committee that will work in the best interest of Nigerians.
"We are forming a committee to meet with the aspirants. After that we will decide on what to do. We have decided to form a special committee to advise the National Working Committee ((NWC) of the party.
"We are ready to confront all the rigging that happened in the last convention and to ensure free and fair elections during the upcoming presidential primaries. There should be no impunity. There should be no godfatherism."


TheCable