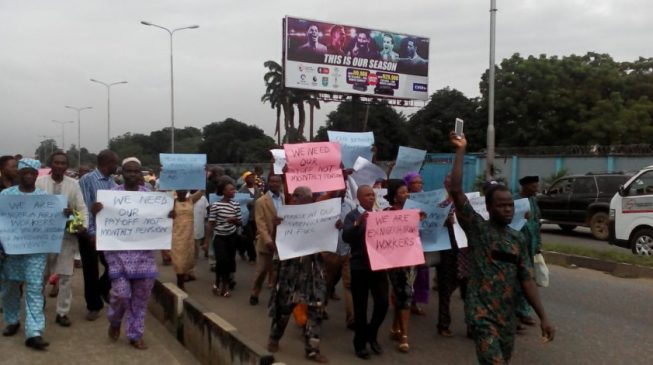 Some senior citizens on Tuesday staged a protest at the ministry of finance over 14 years pension arrears owed them by the federal government.
The protesters demanded the payment of N45.3 billion which they claimed had been approved by President Muhammadu Buhari since 2017.
The protesters, who are members of Nigeria Airways branch of the Nigeria Union of Pensioners, blocked the gate of the ministry and prevented Zainab Ahmed, acting minister, and staff from gaining access to the premises.
The minister was forced to address the protesters after she was denied entry.
Ahmed said she was ignorant of the issues and would need time to be adequately briefed on the matter.
While requesting for a proper meeting with the leadership of the group, the minister said it would not be easy to pay the arrears all at once.
She said a payment mode would have to be agreed upon.
Thereafter, the protesters allowed the minister into the premises ministry and presented her with a letter stating their demands.
The protesters also asked Ahmed to maintain relationship with the leadership of the union.
Editor's note: This picture was used for illustrative purposes