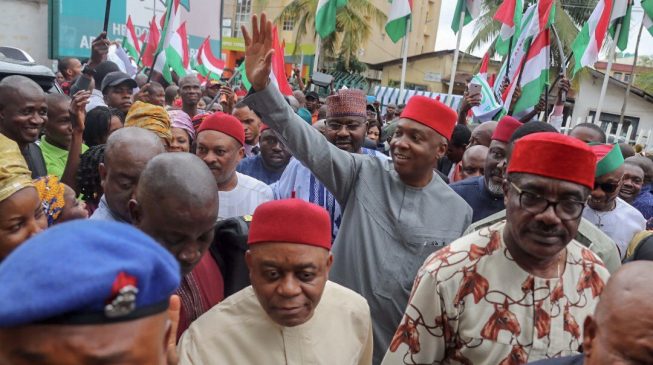 Senate President Bukola Saraki says Nigerians must "change" President Muhammadu Buhari with a man who has capacity.
Saraki said this on Friday at a meeting with Peoples Democratic Party (PDP) members in Owerri, Imo state.
The nation's number three citizen, who is a presidential aspirant of the PDP, said there is need for a president who would ensure the country's prosperity.
"We must change Buhari with a man that has capacity, integrity and vision in order to realise our potential. I believe in restructuring that would give states opportunities to realise their potentials," he said.
"I promoted made-in-Aba products. As president, I will support local businesses. We need to have a president that will ensure prosperity; nobody wants a handout."
Saraki said he would continue to fight for the masses, outlining his vision for the south-east.
"I will continue to fight for the masses. We have to change the leadership. We need a leadership that would ensure justice and fair distribution of national appointments," he said.
"As a president, I will ensure everybody has food on the table. I will restore global reputation. Countries are built by hard work and vision.
"The south-east people are hardworking and their entrepreneurial spirit is wonderful. As a president, I will partner south-east to emerge the next tiger of business in Africa.
"You don't build what you don't have. I therefore appeal to the delegates to vote wisely. By the grace of God, I will emerge the PDP presidential candidate. My desire is not just an ambition.
"Nigeria has never been this divided. People are afraid to be called Nigerians. Ethnicity and religion have taken over. There is no inclusion anymore, no fairness, no federal character, no job and businesses are dying. Survival of businesses is survival of the country. Poverty is everywhere."


TheCable