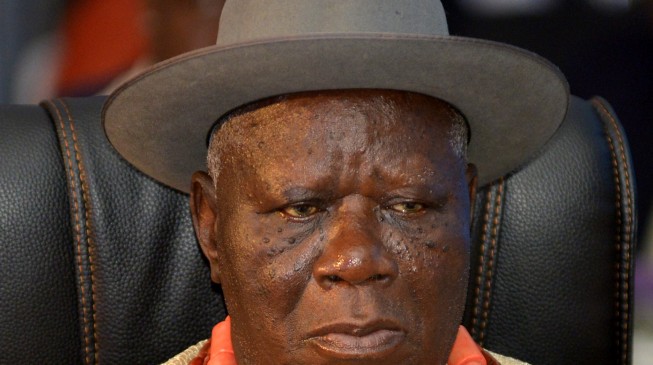 A scrum of police officers invades the residence of a respected Ijaw leader – Edwin Clark. The invaders claim they are acting on the order of Ibrahim Idris, inspector-general of police (IGP).
These invidious executers of tyranny spend more than two hours rummaging through the "boxers, socks, hats, bead necklaces, soup pots, cellar and cutlery" of the Ijaw chief, but they find nothing.
They had presented a search warrant to legitimatise their illegality. But the invasion turns out a botched attempt to "frame" a voice of dissent.
The police claimed the search was initiated because they had information that Clark was stockpiling weapons in his Asokoro residence. But the scoop turns out a hoax.
To save face, IGP Idris says he is "not aware" of the invasion.
Who gives the orders?
The claim of the police chief is risible because the invaders showed a search warrant and acknowledged that they were sent by him. And they even spent more than two hours poring through the crevices of Clark's residence. Why was the search not called off?
What if an incriminating item was found on the property, would IGP Idris have claimed he was not aware of the intrusion? Or would he clench his fist in glory and announce to citizens that "weapons have been found in the house of one influential politician, and we suspect he is sponsoring attacks in the country"?
However, does this reckless invasion have anything to do with Clark's open support for Senate President Bukola Saraki? Maybe my imagination is running wild. Or perhaps I have been so mentally tasered by the government that I suspect every action taken by its agents.
The fact is, the search on such a high-profile individual could not have been carried out without the authorisation of the police leadership.  In all, this embarrassing security misfire reveals once again the content of IGP Idris' character.
By the way, the culture of not taking responsibility for actions – when they provoke citizens' angst – was trended by President Buhari.  In fact, he has the copyright to the clause, "I am not aware". Is it then surprising that IGP Idris is toeing the same path? I would say he is only being a good student. He is learning well from his master.
And a few weeks ago, the DSS invaded the national assembly, causing much uproar and cacophony. The presidency claimed it was not aware. But Lawal Daura, the sacked DSS DG, shattered that glass of deception. He said the invasion of the national assembly was a "collective decision".
In conclusion, the I-am-not-aware slant is reminiscent of the military era, where soldiers would kill, maim and torture people, but the leadership would blame it on "unknown soldiers".  This is the democracy version of "unknown soldiers", perhaps.
Anyway, I am not aware.


TheCable