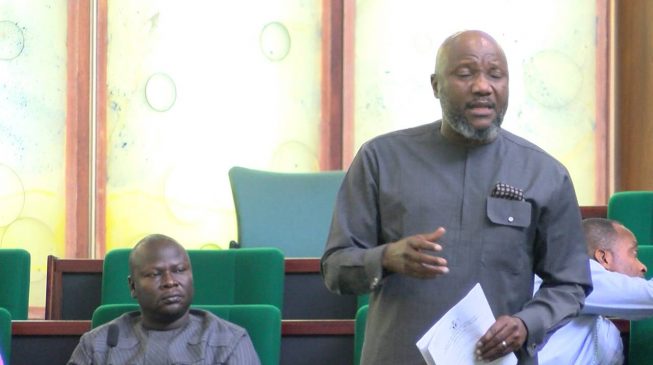 Adekunle Akinlade, an aspirant of the All Progressives Congress (APC) in Ogun state, has been declared winner of the governorship primary election in the state.
Derin Adebiyi, state chairman of the party, made the declaration after a parallel primary was conducted on Tuesday.
Akinlade, lawmaker representing Egbada South/Ipokia federal constituency, is the preferred candidate of Ibikunle Amosun, governor of the state.
While addressing journalists at the secretariat of the party  in Abeokuta, Adebiyi said Akinlade polled 190, 987 votes out of 201, 620 valid votes cast across the 236 wards in the state.
Jimi lawal came second with 5,o46 votes, Dapo Abiodun with 3,648 votes, while Abimbola Ashiru had 898 votes.
He said Adegbenga Kaka had 833 votes and Abayomi Hunye with 20 votes.
The party chairman said direct primary election was adopted and was monitored by security operatives and officials of the Independent National Electoral Commission (INEC).
This came after the state party members accused the national working committee (NWC) representatives to the state led by Muhammad Indabawa of planning to compromise the election after it was postponed three times.
Adebiyi had said, "They arrived on Monday and at the meeting held at the MITROS Suites, Ibara, Abeokuta, the NWC panel told us the primary would hold on Tuesday.
"The party members were all in their wards waiting for the NWC panel, but they never showed up."
Taiwo Adeoluwa, secretary to the Ogun state government, had accused Adams Oshiomhole, national chairman of the All Progressives Congress (APC), of planning to impose a governorship candidate on party members.
The electoral committee is yet to react to this development.


TheCable