Stuart Symington, the United States ambassador to Nigeria, says whatever happens in Nigeria will affect the world.
According to the US Mission in Nigeria, Symington said this in response to questions on the interest of the US in Nigeria's democracy.
It is unclear if the comment was made on the basis of the tension between the federal government and some foreign countries, including the US, in recent times.
The federal government had kicked against the decision of the European Union, US and UK, to comment on President Muhammadu Buhari's suspension of Walter Onnoghen, chief justice of Nigeria.
In separate statements, the international community expressed concern over the timing, saying the action could have effect on the credibility of the elections.
"We urge that the issues raised by this decision be resolved swiftly and peacefully in accordance with due process, full respect for the rule of law, and the spirit of the Constitution of Nigeria," the US embassy in Nigeria had said in its statement.
But the presidency, in its response, had accused the US of undue interference in Nigeria's affairs.
Garba Shehu, presidential spokesman, had said the position of the US and other European countries  on Onnoghen's suspension was out of misunderstanding.
Writing via its Twitter handle on Monday, the US embassy restated its support for the nation's democracy.
"Why does the United States support Nigeria's #democracy?" it asked.
"Because what happens in Nigeria will affect the world … and it depends on you. It depends on every Nigerian. – Ambassador W. Stuart Symington."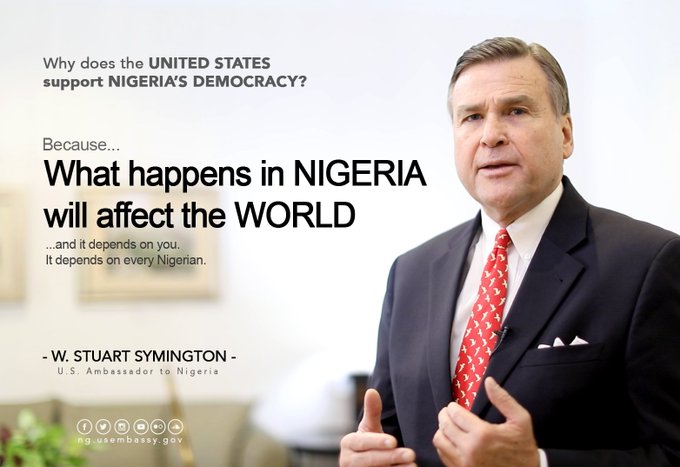 U.S. Mission Nigeria

✔@USEmbassyAbuja

Why does the United States support Nigeria's #democracy?
Because what happens in Nigeria will affect the world … and it depends on you.
It depends on every Nigerian. – Ambassador W. Stuart Symington#USinNigeria

3,424

3,260 people are talking about this
TheCable