Frustration, angst and criticisms have trailed the unexpected postponement of the general elections.
In the wee hours of Saturday, the Independent National Electoral Commission (INEC) announced new dates for the polls and the development has dominated the conversation on Twitter.
The postponement has drawn the ire of many Nigerians, including celebrities, who have questioned INEC's ability to conduct a free and fair elections.
Here is what some celebrities had to say:
Toolz O.D

✔@ToolzO

Absolutely no regard for people who put their lives/businesses on hold to vote today. #Pitiful https://www.instagram.com/p/Bt8YppSAFl7/?utm_source=ig_twitter_share&igshid=163lhjuwll2gv …

48

See Toolz O.D's other Tweets
Do2dtun Energy gAD

✔@iamDo2dtun

Very sad country. Why waste our time? Why? .. I went to bed very early, prepared for tomorrow, picked my starter kits only to wake up to take a leak and then the news that our country's INEC is turninoniown.. smh!

520

198 people are talking about this
Rita Dominic

✔@ritaUdominic

Well 23rd is next Saturday, we will still go OUT TO VOTE with more enthusiasm and passion, we can't be stopped!

5,530

2,504 people are talking about this
Toke Makinwa

✔@tokstarr

You had one job to do, 4 years to prepare, 4 solid years to prepare and you play us like this??? I'm at a loss for words

2,301

696 people are talking about this
Banky Wellington

✔@BankyW

While we are all frustrated, please spare a thought for people who are most affected by the postponement... like our corpers who had to spend the night in terrible sleeping conditions, people who had weddings or other milestone occasions planned, etc. May God help us all.

9,084

3,411 people are talking about this
Omoni Oboli

✔@Omonioboli

But come to think of it...did @inecnigeria and the government apologize to us?!!! Don't we deserve an apology? You just disrupted our lives MAJORLY with an announcement and no apology? This is so disrespectful! Nigerians deserve better! #NigeriaDecides2019

284

157 people are talking about this
Davido

✔@iam_Davido

There's nothing wrong in wanting to be President for one more week .. the seat sweet #DefendYourVote

33.6K

14.1K people are talking about this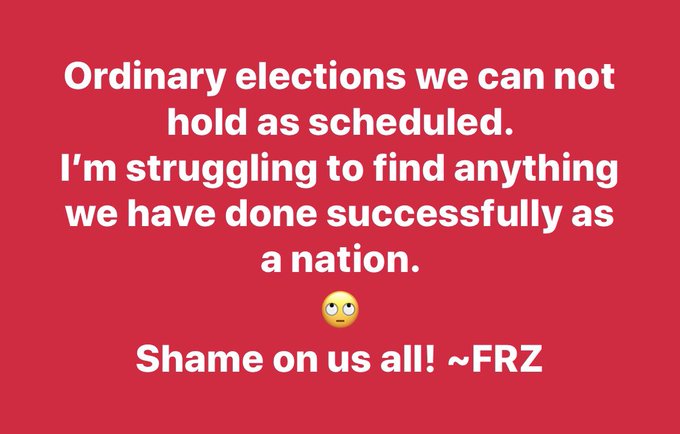 Daddy Freeze@DaddyFRZ

The chronicles of the poverty capital of the world!

97

49 people are talking about this
Lolú Shomuyiwa@officialomololu

Iranu
Show of shame.
Ineptitude.
Call it what you may but this is absolutely unacceptable.

117

33 people are talking about this
Ihuoma.L.Ejiofor-Suleiman@LindaEjiofor

Nothing this country does surprises me any more. I repeat NOTHING.

101

See Ihuoma.L.Ejiofor-Suleiman's other Tweets
Iretiola Doyle@IretiolaDoyle

In one fell swoop @inecnigeria gives credence to every single spurious story concerning/questioning their ability to conduct free and fair elections. Now everything is suspect. Why are you so predictable? To think I actually shot a PSA for this crap.

15

See Iretiola Doyle's other Tweets
Kemi Lala Akindoju

✔@lalaakindoju

We are all angry, and rightfully so. Once again our leaders and our system has let us down. Businesses shut down, people travelled, corpers stranded, weddings moved, fates of… https://www.instagram.com/lalaakindoju/p/Bt8Ba3GjG1v/?utm_source=ig_twitter_share&igshid=4owvgizoi7as …

12

See Kemi Lala Akindoju's other Tweets
Gabriel Afolayan.@gabbyluccii

It won't be a surprise, result might be on ground already.

51

23 people are talking about this





TheCable